The Lavaca-Navidad River Authority is pleased to announce that its Community Development Partnership Program will provide grant opportunities to communities, schools, and 501(c)3 non-profit organizations in LNRA's service area.  The newly developed community development program aligns with LNRA's mission to manage, conserve and protect the natural resources of the Lavaca Basin, in partnership with our customers, to enhance the growth and development of the basin's communities and the well being of its citizens.
In 2011, LNRA was authorized by the Texas legislature to develop, participate in and sponsor economic development programs intended to strengthen the economic base within LNRA's territorial boundaries, or water service area, and to further the economic development of the State of Texas.
Consistent with the legislation, any funds expended by LNRA in support of an economic development program should meet one or more of the following criteria:   Encourage economic diversification, Contribute to the health and development of a community to improve the attractiveness of the community, Improve the quality and/or quantity of services essential for the development of viable communities and economic growth including services related to education, transportation, public safety, recreation, health care, training and community planning or employment.    
In 2012, an Advisory Committee comprised of local citizens worked with LNRA Board and staff to identify community needs and better define how LNRA might craft a program to further community and economic development efforts and benefit the public.  Once a policy was developed and approved by the LNRA Board, a thirteen (13) member Review Committee was formed.  Consistent with LNRA policy, committee membership includes representatives of the City of Edna, City of Ganado, City of La Ward, County of Jackson, Jackson County Hospital District, Edna ISD, Ganado ISD, Industrial ISD, and LNRA. 
For more information about the program, please call Patrick Brzozowski, LNRA General Manager or Karen Gregory, Deputy General Manager, Administration at (361) 782-5229.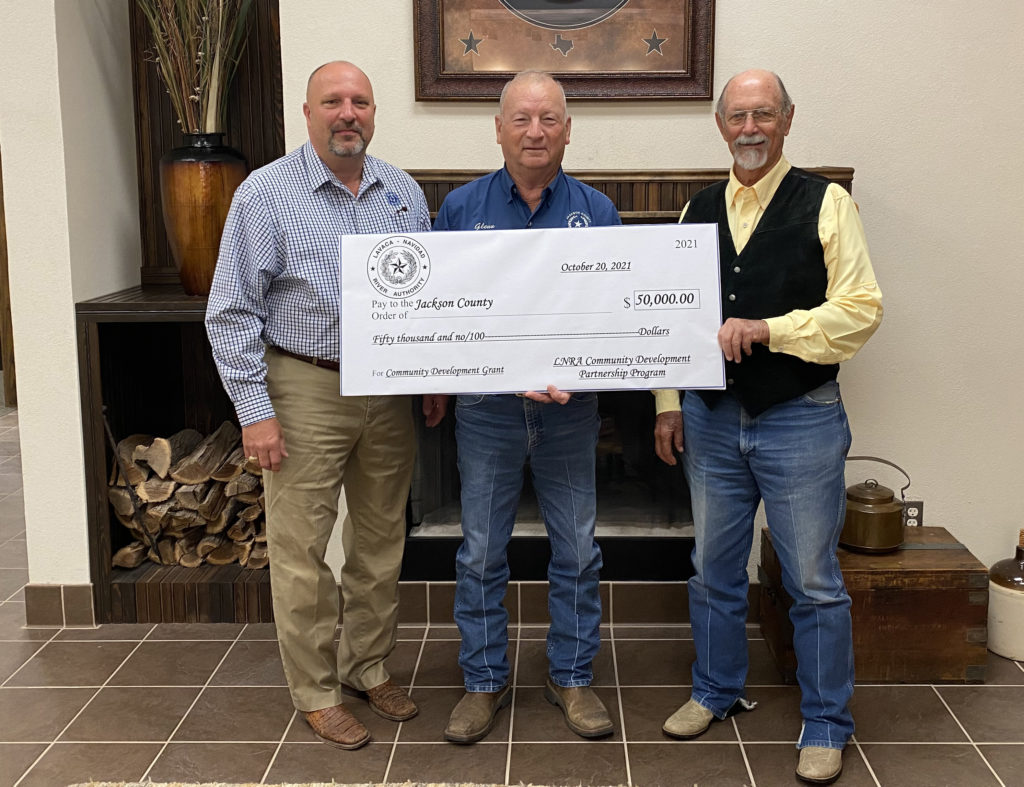 2021 Grant Recipient, Jackson County, $50,000.00
Pictured: LNRA General Manger, Patrick Brzozowski, Jackson County Pct. 3 Commissioner, Glenn Martin, LNRA Board of Directors President, Jerry Adelman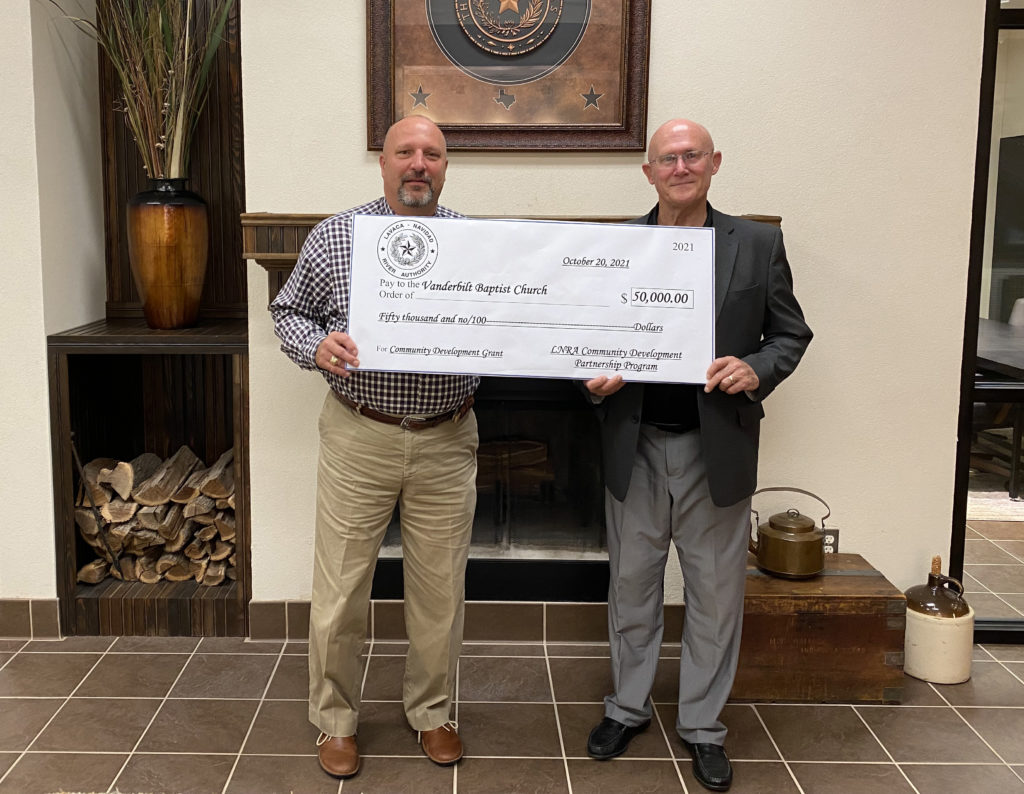 2021 Grant Recipient, Vanderbilt Baptist Chruch, $50,000.00
Pictured: LNRA General Manager, Patrick Brzozowski and Vanderbilt Baptist Church Pastor, Jack Hutson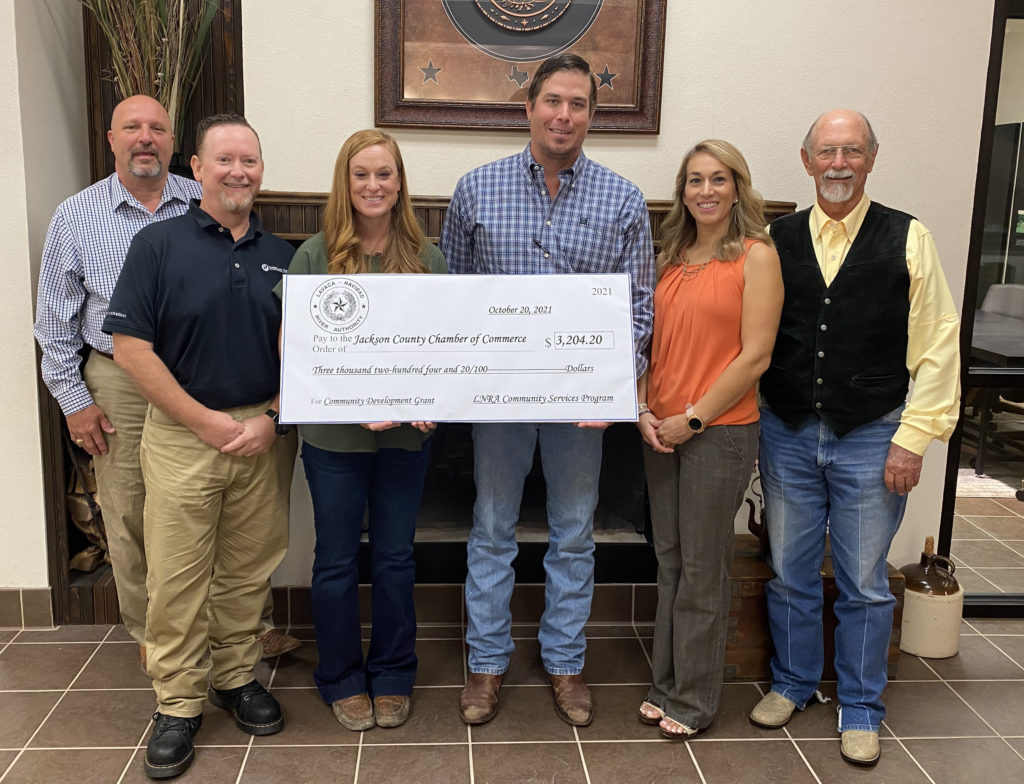 2021 Grant Recipient, Jackson County Chamber of Commerce, $3,204.20
Pictured: LNRA General Manager, Patrick Brzozowski, Jackson County Chamber of Commerce Secretary, Brandon Crow, Jackson County Chamber of Commerce President, Lacey Bayer, Jackson County Chamber of Commerce Vice-President, Adam Ulbricht, Jackson County Chamber of Commerce Executive Director, Carolina Jalufka, and LNRA Board of Directors President, Jerry Adelman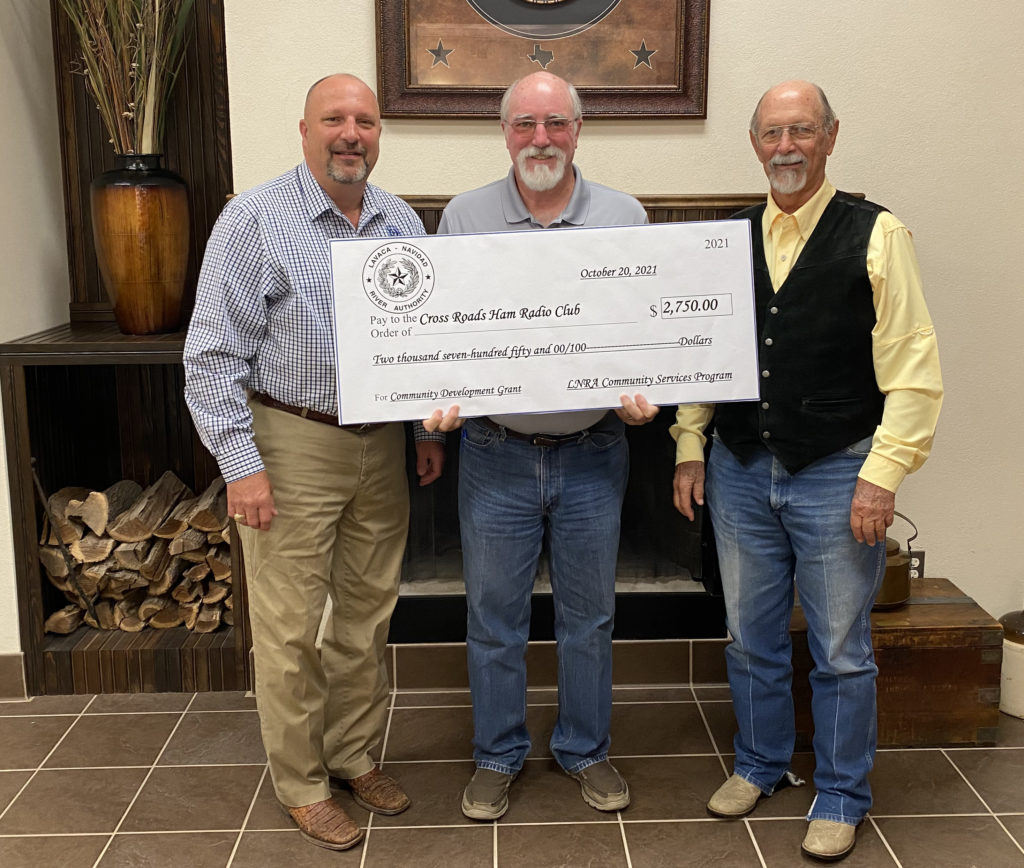 2021 Grant Recipient, Cross Roads Ham Radio Club, $2,750.00
Pictured: LNRA General Manager, Patrick Brzozowski, Cross Roads Ham Radio Club, Bill Rakowitz, and LNRA Board of Directors President, Jerry Adelman