Consistent with LNRA's mission, LNRA makes funding available in the form of grants to local communities, schools and 501(c)3 non-profits in LNRA's service area. 
LNRA was authorized by the Texas legislature to develop, participate in and sponsor economic development programs intended to strengthen the economic base within LNRA's territorial boundaries, or water service area, and to further the economic development of the State of Texas. Consistent with the legislation, any funds expended by LNRA in support of an economic development program should meet one or more of the following criteria:  
Encourage economic diversification,
Contribute to the health and development of a community to improve the attractiveness of the community and/or
Improve the quality and/or quantity of services essential for the development of viable communities and economic growth including services related to education, transportation, public safety, recreation, health care, and training and community planning or employment. 

 
LNRA Board Policy 701, makes available two (2) grant opportunities; LNRA's Community Services Program (CSP) and Community Development Partnership Program (CDPP). 
The CSP allows grant requests year-round with a single maximum grant request up to $5,000.  LNRA Board of Directors has designated the General Manager to administer CSP grants to facilitate LNRA's responsiveness to applicant needs and timeline. 
The CDPP allows grant applications once per year, usually in the month of July. The program is designed to accommodate larger funding needs with a single maximum request of $50,000.  A thirteen (13) member committee, whose membership includes representatives from Cities of Edna, Ganado, and LaWard, County of Jackson, Jackson County Hospital District, Edna ISD, Ganado ISD, Industrial ISD, and LNRA review applications and recommends the award of funding to the LNRA Board of Directors. 
For more information about the grant programs, you may contact Patrick Brzozowski, General Manager or Karen Gregory, Deputy General Manager, Administration at (361)782-5229.  
CDPP Grant Application (Due 7/28/2023)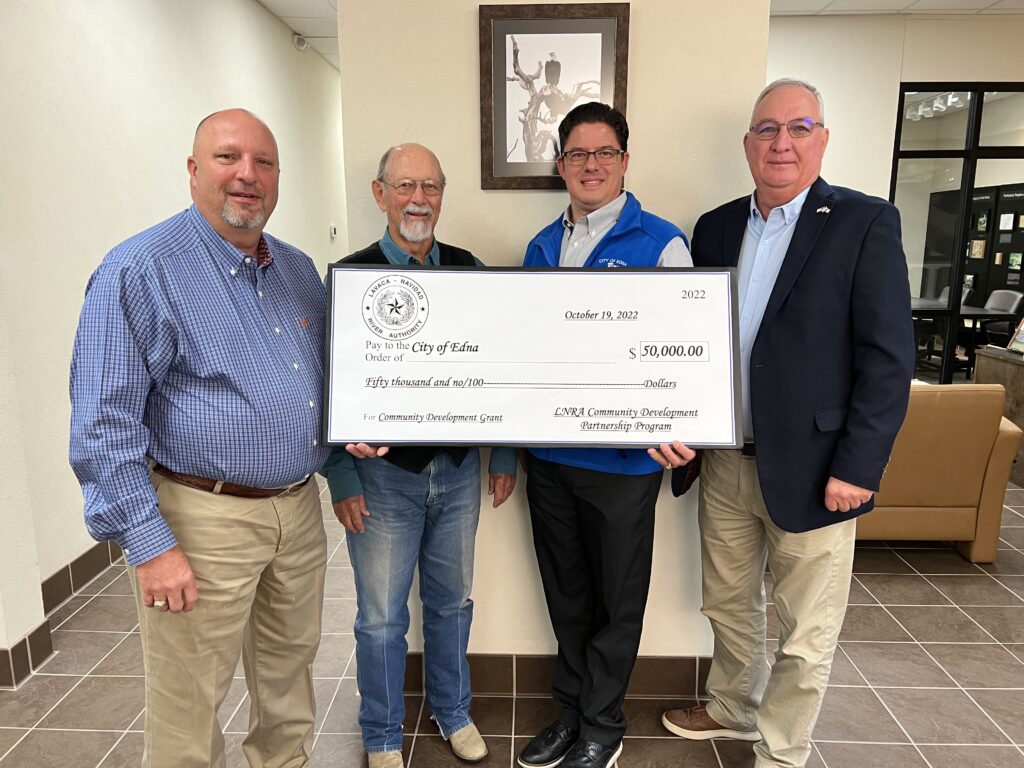 2022 Grant Recipient, City of Edna, $50,000.00
Pictured: LNRA General Manger, Patrick Brzozowski, LNRA Board of Directors President, Jerry Adelman, Edna City Mayor, Lance Smiga, and Edna City Manager, Gary Broz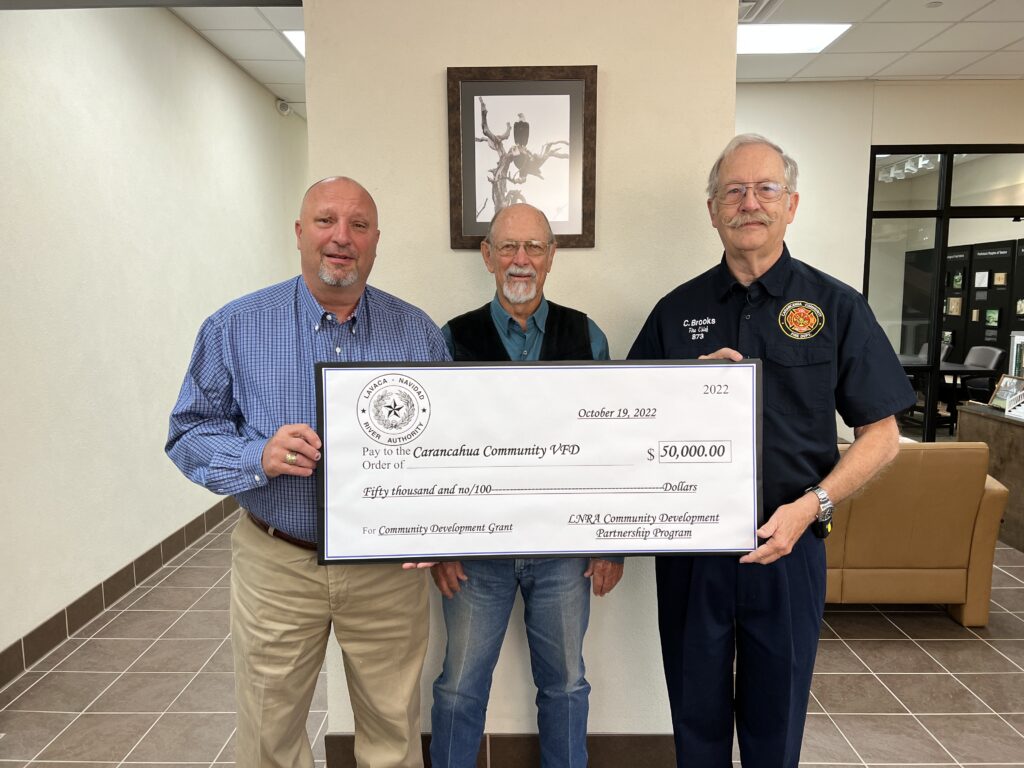 2022 Grant Recipient, Carancahua Community Volunteer Fire Department, $50,000.00
Pictured: LNRA General Manager, Patrick Brzozowski, LNRA Board of Directors President, Jerry Adelman, and Chief Brooks with Carancahua Community VFD